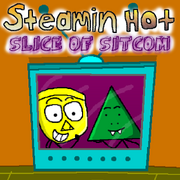 This page is old.


This page has been marked old because Djwrules has decided not to delete it, but rather to leave it alone. Feel free to read on, but be advised that the page is no longer associated with the rest of the wiki's content.
Steamin' Hot: Slice of Sitcom (or simply Slice of Sitcom) is the twelfth studio album from the band Steamin' Hot. It was released on March 25, 2013 by Rubix Records.
Track listing
All songs written by Damen Walker, except where noted.
Don't Wanna Be Lonely
Let Me Down Easy (in the style of The Spencer Davis Group)
On the Way Home
Mako's Guitar +
Think I'd Rather
Songs About Being Blue
Love Is What I Want
Who Needs Money (originally performed by Elvis Presley)
Send Me a Postcard (originally performed by Shocking Blue)
Laugh Track
Let's Go
Docter Robert (originally performed by The Beatles)
(+) Instrumental song
Gallery