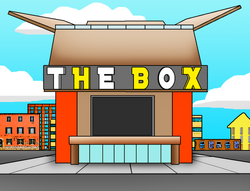 The Box is a fictional concert venue in the American stick figure franchise Tony Tom-Tom. It is located in Lakeside Town, Colorado.
The Box is best known for hosting onstage music and drama performances, though it is also the site of the town's annual New Year's Eve box drop, as seen in the 2007 holiday TV special Tony Tom-Tom's Box Full of Joy.
It took a role as the main title setting in the 2008 album Tony Tom-Tom: Live from the Box.
Gallery